Commercial Building Details

Introduction

Wilkie Edge is a 12 storey high mixed-development building which is for commercial and residential use. There are offices, retail shops and apartments here. This exquisite building is completed in 2008. This building has a characteristic LED screen right in the centre displaying the latest commercial advertisements and notices. It has roughly 13880 square meters of retail and office spaces for rental.

One of the key tenants here is Kaplan Financial (S) Pte. Ltd. It is owned by Capita Commercial Trust and managed by CapitaLand. Wilkie Edge has also been certified the Green Mark Award by the Building and Construction Authority of Singapore.



PROJECT NAME
Wilkie Edge

TYPE
*Condominium
*Office
*Retail

ADDRESS
8 Wilkie Road (S) 228095

DISTRICT
09

YEAR COMPLETED
2008

NEARBY MRT STATION(S)
• Rochor
• Dhoby Ghuat
• Little India

Car Park Rates

MON-FRI before 6 PM: $1.40/30min from 7am to 5.59pm

MON-FRI after 6 PM: $0.90 per 30min from 6pm to 10.59pm

$4.00/entry from 11pm to 6.59am the following day

SAT: $1.40/30min from 7am to 1pm

$4.00/entry from 1.00pm to 6.59am the following day

SUN / PUBLIC HOLIDAYS: $4.00/entry from 7am to 6.59am the following day

Season Parking At $170/mth For Tenants

Season Parking At $180/mth For Non-Tenants


Commercial Building Location

Wilkie Edge is located at 8 Wilkie Road Singapore 228095, in prestigious district 09. It is located near Selegie Road and Wilkie Road within walking distance to Dhoby Ghuat Mrt station. Other nearby MRT stations are Rochor and Little India stations. There are also several bus services available. For vehicle owners, driving from here to the vibrant Orchard Road shopping district takes about 5 minutes. Major expressways such as CTE and ECP allow drivers easy access to any part of Singapore.

Amenities around

Malls: Nearby mega malls like Parklane Shopping Mall, Paradiz, Sunshine Plaza, Burlington Square, Fortune Centre, The Verge and Sim Lim Square as well as many more others which have a myriad of amenities like eateries, retail shops, supermarkets and banks. There are also nearby restaurants along Selegie Road and Bencoolen Street.

Supermarkets: The nearest supermarkets are Cold Storage Supermarket at Paradiz, Carrefour Supermarket at Plaza Singapura and Sheng Siong Supermarket at The Verge.

Healthcare: For medical consult, you can head to the nearby General Practitioner Clinics, Mount Elizabeth Hospital, Raffles Hospital, KKWCH in the area to provide specialist healthcare services for the residents.

Education: The nearby educational institution around are St Magaret's Primary School, River Valley Primary School, Stamford Primary School, Anglo-Chinese Primary School, Farrer Park Primary School, River Valley Primary School, St Joseph's Institution and Singapore Management University.

Recreational facilities: There are many recreational facilities around Singapore Cricket Club, Cairnhill Community Club and Fort Canning Park.

Places of worship: These include Masjid Burhani Mosque at 39 Hill Street, Sri Krishnan Temple at 152 Waterloo Street, Kwan Im Tong Hood Che Temple at 178 Waterloo Street and Church of Christ Malaya at 54 Sophia Road.

Hotels around here include Village Hotel Albert Court, Carlton Hotel Singapore, Landmark Village Hotel, Rendezvous Hotel Singapore and Fragrance Hotel Selegie.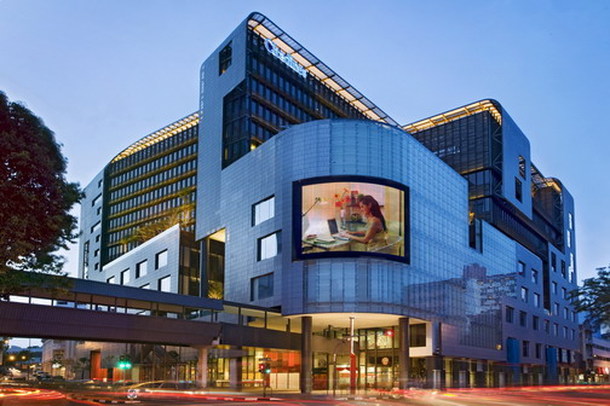 Conclusion

Wilkie Edge is definitely a highly sought after commercial business place due to its strategic location in the Orchard and the myriad of facilities in-house and nearby. Prestigious residential apartments located around this area like Parc Emily, Urban Suites @ Orchard and The Laurels. For more details, please contact the relevant personnel.

Did You Know ?

1.In the 1840s, Graveyards were located along Orchard Road. Chinese Graveyards were located near the Orchard Mrt station stretch of road. Sumatrans from Becoolen also were buried around the area. Previously the Jewish cemtery was located near Dhoby Ghuat Mrt station but was demolished in 1984.

2.Istana was previously used to screen movies for free to the public on weekly basis back in the early 1950s to 1960s. It also provided parking lots for muslims who goes to the nearby mosques.

3.Orchard Road Car Park Hawker Centre existed between 1966-1978 was alaso known as Glutton's Square was one of the most popular makan places in Singapore. The Hawkers will push their stalls to the carpark after 5 pm when the car park closed and will be opened till almost 5 am the following day. In 1978, due to overcrowding and hygiene issues hawkers were relocated to Cuppage Hawker Centres and Newton Circus.